Your Guide to Seeing the Northern Lights
Seeing the Northern Lights is a once in a lifetime moment for many. It's one of the most surreal, peaceful, inspirational things that you can see. There's a reason why so many people put this at the top of their bucket lists because they are some of the best natural phenomenon to see on this earth.
But seeing the northern lights isn't easy. They are very elusive and many people have been disappointed when taking a trip to a far away destination that costs lots of money, only to not see the lights. It's a lot more common than you think. But luckily, I've been fortunate enough to see the northern lights on both of my two separate trips – the most recent being in December 2019 on a Northern Lights Adventure. Each time I've learned something new and after speaking with many people about their experiences and how they plan, I've taken the time to write down all this information into a brief summary below, which I hope will help.
My guide will help you explore all the aspects of seeing the northern lights and will list all the aspects you can control, so that you get the best possible chance at seeing them. If you can get the correct conditions being at the right place and time, and by using the information below, you'll have a good chance at seeing them. I hope this guide will help you!
Places to See the Northern Lights
The best places to see the northern lights are far north on the map. They are all located within the arctic circle and have their specific advantages and disadvantages. Here are some of the world's best places to see the northern lights.
Abisko, Sweden
Tromsø, Norway
Reykjavik, Iceland
Fairbanks, Alaska
Yellowknife, Canada
At a quick glance, Abisko is the cheapest, and most budget friendly of all the locations. Tromsø has the best external activities, like dog sledding, skiing, seeing reindeer. Iceland has the best nature and landscape. Fairbanks is the closest, distance-wise location for most readers. And Yellowknife has the best viewing, however it is very cold during most of the year. Overall, each place listed above has good tourist infrastructures and will make searching for the northern lights as easy as possible. 
Image of the Northern Lights from Tromsø, Norway.
Considerations about Location
The northern lights occurs primarily in the northern-most latitudes, however this is not a completely correct assessment of how they work. The northern lights are more closely related to the geomagnetic poles of the earth, which aren't located on true north. Instead, the poles are slightly tilted in favor of northern Canada. This makes Canada and Alaska more favorable when seeing the northern lights. 
However, do not book a trip completely on seeing the northern lights. Canada and Alaska might have better viewing, but it doesn't have as much activities as Scandinavian locations. If you are stuck with cloudy weather for the whole time, then you might be in for a boring trip. Therefore, be mindful to choose a destination based on other interests, and supplemental activities that can make your trip worthwhile. 
The ease of driving places and the variation in temperature and climate are also factors. The north part of Norway, with its warm gulf stream weather, makes it a lot more mild of a winter. Tromsø for example has very mild weather (perhaps a bit rainy, compared to other locations) and you can be very mobile if you rent a car. But then again, the viewing is not as great as Canada. So keep in mind that you will be outside for hours at a time and if the weather is -30, as it is in Canada or Alaska for the majority of the winter, then you might get cold.  It is definitely not enjoyable to watch the northern lights, if you are freezing.
Location also dictates your choice of transportation. In Abisko, you can just step outside the door and walk to the majority of nice viewing spots for the northern lights. In Tromsø, you can drive places, which extends your reach of finding clear skies. Yellowknife and Fairbanks might be too icy on the roads,  so you will likely have to join a tour, but there is not a huge amount of light pollution so you could just walk outside the small towns to have good viewings too. Iceland, as another example, has the ring road, which for the most part is snowplowed all the time, but could be closed due to sleet rain.
To join a tour or not, is a choice that you'll have to make when you get closer to your arrival date. I think tours are a good idea, if this is your first time up north. You'll be surrounded by a group of 20 or so people, all of whom will be awe-struck, and filled with wonder when they see the northern lights for what is most likely their first time. It makes the experience very nice. Plus, you won't have to deal with driving icy roads and they usually provide you with arctic polar suits that keep you warm.
On the other hand, tours can also be a trap for people, as the main goal becomes getting a photo with the northern lights. Sometimes this is a little bit pushy when they tell you to step in front of the camera, while they shine the flash at your face. Once you get the photo, they might just shuttle you back to the city, earlier than expected, as you've already seen the aurora.
Driving tends to be my preferred choice. But keep in mind that distances are long and unless you get the complete insurance and perhaps sign a secondary driver to the rental, you'll have to drive for hours at a time at late night, passing large 18-wheelers on narrow roads, with a lot more risk on your hands. The plus side is that you get the choice to plan out where to go, and it's a lot more comfortable to choose where to stop and how far you're willing to drive.
If you haven't booked an aurora tour and would rather venture on your own, then you'll need to figure out the best possible location to the Northern Lights through your own planning. In this section, I will help you predict the aurora. You can make it as complex as possible, or as simple as you like. I'll try to keep it as simple as possible, but cover the major important parts.
Let's start with the basics.
The Aurora Borealis is a phenomenon due to electrically charged particles from the sun that enter earth's atmosphere and hit gaseous particles high in the upper levels of the sky. They appear as displays of green, pink, and reds, even violet. The lights usually appear at around 60-200 miles of altitude and depend on the type of particles colliding, the density of the matter, and the speed.
At the most basic level, all you need to see the Northern Lights is to be as north as possible, to have some solar energy, and dark & cloud-free skies. I'll describe these three factors in the sections below called: Magnetic Latitude, Planetary K Index, and Weather Conditions.
Location: Magnetic Latitude
As I noted earlier, the first of the three conditions you need to see the Northern Lights is a high  geomagnetic latitude, aka being as north as possible. The reason for being as "north" as possible is that it takes less solar energy to create a visible aurora when you are at a northern latitude compared to some place more southern, since the earth's protective atmosphere is weaker in these northern areas. That's why in places like Tromsø or Fairbanks, you could see the northern lights all year round, as there is usually enough energy to create some lights.
Let me point out, however, that geographic north and geomagnetic north are slightly different things. If we think of the magnetic pole as being above Greenland somewhere, then all locations close to this area will tend to have the most northern lights activity. Therefore, Yellowknife (farther south) is a better place to view the lights, compared to Tromsø or Abisko. For simplicity's sake, you can refer to geographic and magnetic north as the same.
The following chart below is a good reference to where the magnetic latitude lines might exist. It's just an estimate so that you can see what locations are close to the magnetic pole.
On a side note, when there is a large solar storm, with lots of solar energy, you can see the lights way farther south – sometimes into the middle of Europe and at the north part of the continental US – like Seattle or New York. But that doesn't happen often. There is also a myth that the northern lights will go away for a few years, but this is not true.
In many cases, if you are in a city that is higher than 67 degrees of geomagnetic latitude north, then you would see the northern lights almost every night (if the clear conditions were clear every time). This means that there's aurora activity happening right now! It's actually happening every second of the day and night. You just have to be north enough to see it. 
The five locations I mentioned above, Abisko, Tromsø, Reykjavik, Fairbanks, and Yellowknife are all located in these high magnetic latitude areas. This means that if you have even just slight solar activity, you will likely see the northern lights. 
 If I did not mention a location that you have been searching for, then find the latitude position and use the table above to calculate what level of Kp solar energy you need to have to see the northern lights. This tool will do the conversion between Geographic to Geomagnetic Latitude Conversion.

The next condition for northern lights, aside from a high geomagnetic latitude is having solar energy – defined by the Kp-Index.
The Kp-Index is a way to categorize the magnitude of the geomagnetic storms headed towards earth in a numeric way. It's similar to the category 1-5 scale commonly used for hurricanes. The K-Index (also the Planetary K-Index) uses a scale of 1-9 to describe the relative power of the storm, with 1 being calm, and 9 being a powerful disturbance in Earth's magnetic field. A level of two or more, means a greater chance at seeing the northern lights. If you can get a level of 4 or above, then you should be good, and most likely the whole sky will turn green.
 A Kp of at least two will give you enough solar energy to produce some Northern Lights, in most northern places.
The best places to see the K-P Index are on the NOAA SWPC's website, which has an updated 3-day estimated planetary K-index, like the image below. You can also check Spaceweatherlive's site for a predicted and long-term forecast of the global geomagnetic conditions. 
On the map below, you can see the KP levels needed to produce an aurora for locations in Europe. Levels 2 and above, will cause the northern lights in all the places mentioned previously. Iceland sits a little further away, but because it is close to the pole, it can have a good chance at producing the lights. In my understanding, it is equivalent to the north of Norway.
Another model that I use is the OVATION Aurora Forecast Model, which shows a visual forecast of the predicted intensity and location of the current aurora. This gives a good indication of the relative probability that a Aurora will be present, however you have to then confirm with the weather forecast to get clear skies, otherwise you won't see the aurora occurring. It's one of the best indicators that you can use when you are already at your destination. Keep in mind that because it is based on UTC time, you will need to add an hour of time to the one listed on the graph if you are in Sweden or Norway. For example, the picture below shows 20:55 UTC, which corresponds to a local time of 21:55 in Sweden and Norway where you will be. In addition, please note there may be a delay time on the forecast by up to an hour or two.  
Link to the OVATION Aurora Forecast Model.
Also, use the image below as a live updated forecast from NOAA.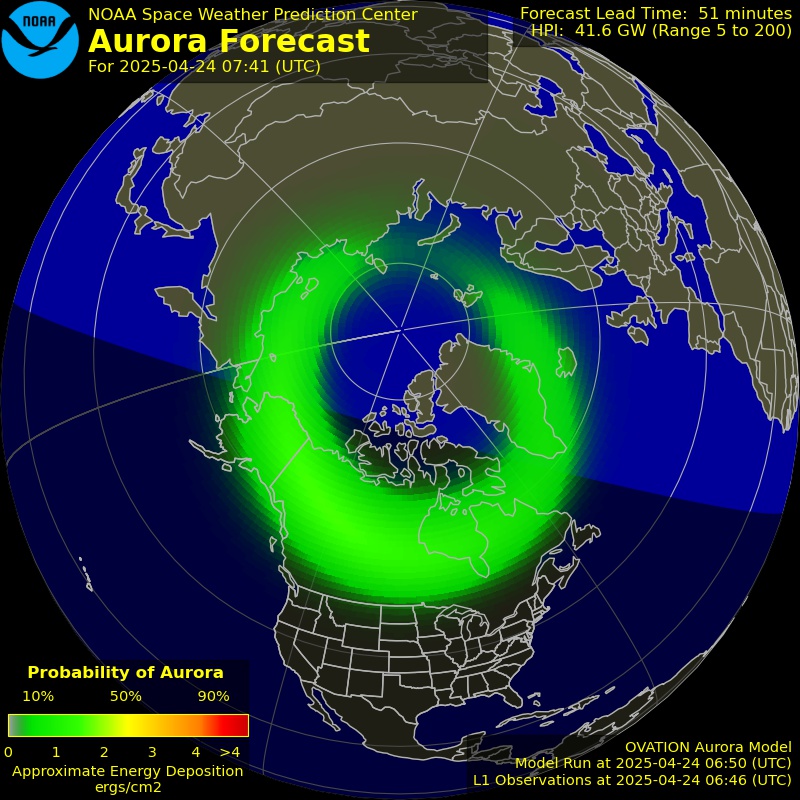 A final and third piece to seeing the Northern Light are the weather conditions. Regardless of whether you are far enough north, and have enough solar energy coming in, you won't be able to see the lights, if the weather doesn't cooperate. This might just be a factor of luck, but there are ways find the updated weather forecasts, which show clear skies.
The initial thought is to only look at the indicators that show if the sky is clear, but the best advice I can give is that you should spend more time searching for cold temperatures rather than looking for non-cloudy cloudy conditions. Colder temperatures give you a better chance at seeing the northern lights by clearing the sky and compared to if it was warm, which includes being near to freezing or 0 degrees Celsius. A day that is at zero degrees Celsius will have more clouds and moisture in the air, perhaps even more movement in the air. It can likely have a predicted clear skies, yet when you get there it will be cloudy. You should search for the days with negative temperatures, below negative 3 and if you are near the coast, then try to go inland, unless it has been clear for a day or a few hours ahead of time.
For those visiting Fairbanks Alaska, you can check the forecast on the University of Alaska Fairbanks' website.
For those in Iceland, the Icelandic Meteorological Office is a reputable source of info.
Norway's Yr.no weather website provides the best real-time forecasts that you can find for the Nordic areas. It has hour-by-hour updates as well as long term forecasts. Just type in the city and you can find the temperature, cloud coverage, wind speed, and other pieces of information. Try these links for Tromsø, Abisko, Reykjavik.
If the weather doesn't cooperate and doesn't drop low enough, then you can resume searching for the non-cloudy areas nearby. This is especially helpful when you have a car to drive places. If you go to the Yr.no map page (see image below), you will see the cloud/rain cover forecast for the whole of Norway and part of Sweden. This is especially useful at predicting where to be to get clear skies. I use it as a second indicator, comparing it to the temperature, to see if there is a good chance at getting clear skies.
This guide that I've written will help you take photographs of the northern lights. Comment here or on the guide post for any further questions you have. 
The main requirement is that you have a DLSR camera that can take long exposure photos. Perhaps the new iPhones are getting there with technology, but they still won't be as impressive as what you see with the eye or with a good Canon camera.
That being said, you can always try with your phone. The best nighttime exposure app is the Neuralcam. It costs 2.99 (no commission on the link) and has incredible resolution and brightness compared to other apps based on this case study.
More Northern Lights Tips:
Clothing: A whole section could be devoted to clothing on a post about the northern lights, but for the sake of time, I will summarize what you need to know when exploring. Obviously the weather is cold, so prepare as best you can for the worst temperatures. The most essential element to cold weather gear is the base layer. You'll want to buy high quality wool products to wear as your first layer. Then you want to go with a thick jacket and pants, and finally cover with something windproof. The most important parts of your body to consider are your feet (toes), your hands (fingers), and the top of your head (including your ears down to your neck – I use this hat). If you can protect these three areas, then you'll be a considerable amount more comfortable during the trip. Wearing mittens, rather than gloves, is highly recommended. A neck gaiter can also keep you a lot warmer too. A final emergency solution for cold toes, which is not recommended unless really needed, is to use a space blanket to wrap your feet underneath your socks. With boots, you'll want to consider the warmth of your toes, and the thickness of your rubber sole. A pad that separates your feet from the ground (which you can use while stargazing), can also eliminate some heat dispersion. Finally, if you have a car, then either use a wind block from the tree line – as in park close to the forest as possible without getting stuck, or use the car body as a way to shield from the wind – only exposing your head so that you can see the lights if they are out. 
Give yourself enough time: I would say that four nights is a proper amount of time to see the northern lights. Any shorter and you might miss out on seeing them if you get stuck in a winter storm. 
Rental Car: For those able to, just book a rental car. It will allow you a greater amount of freedom to choose where to go to see the northern lights.
See my guide here for driving to see the northern lights.
Gettting there: The best way to get to the northern lights is by plane. You'll want to fly into your destinations as this is the most cost/time effective manner. A second option, if you have the time and don't mind the longer trip is by train. You can get far north by train in Norway (although it doesn't go to Tromsø and stops south in Narvik – then you take a bus), or in Sweden you can catch the train all the way to Abisko, which is a very nice area.
Photography: A blog post about Northern Lights Photography will be out shortly. You might want to bring a separate flash system to light up your photos and at least a DSLR and tripod system capable of taking photos for 3 seconds or longer at a time to properly capture the aurora.
Other gear: Carrying a head lamp with extra batteries is a good idea for the long and cold nights up north. It's important that each person have their own light and that it can be used in the red light mode, which doesn't affect your night vision as much as pure, white light. The next piece of equipment is a thermos. My Hydroflask survived the cold for many hours, keeping my water warm (by the end of the night it was significantly cooler than had I been elsewhere warmer – so about 6 hours survival time), but you can get a heavy duty flask from Stanley. They keep water hot for at least 24 hours with the 1L bottles and 32 hours with the 2L family sized option. Buy your beer and alcohol at the duty free before you arrive (Norway has a zero tolerance law with regards to driving under the influence).
Preparing for the time: Before you leave anywhere with wifi, you might want to download (or just buy a regular book) lots of reading material, movies, music for the drives, and any other forms of entertainment along the way. You'll likely be passing the time with good conversation or some way to have fun during long winter drives. Bring an aux chord, if possible.
Seeing the lights or not: A final piece of advice is not to be disappointed or set your whole trip on seeing the northern lights. While it is exciting if you do see the aurora, you should go for the completely different experience. Just being in a place like Finland, or Sweden, perhaps even in the US, or Canada, where it is cold, frozen, and completely different than your hometown, is a memorable experience in itself. Try to go with a group of friends or your family or your significant other to make sure that you have good stories to come back to.